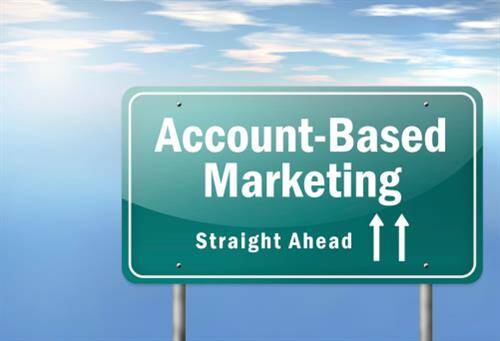 26 Feb

What You Need to Know About Account Based Marketing

Have you heard about this hot Internet marketing trend called Account Based Marketing (ABM)? Just in case you haven't, let me give you a quick briefing on what it is.

Making the Best Use of Paid Ads
What is Account Based Marketing?
Another term for ABM is key account marketing; both are the same process to communicate with a single key client or customer. Primarily ABM is used for B2B marketing. It is a way to personalize communications between you and the buyer. Some people like the term "a market of one." The thinking behind this type of marketing strategy is that each customer or client has different needs. Sending out generic marketing material or marketing material of no interest is a waste of your time and your customer's. With ABM, you target your existing key clients and big potential clients with personalized and individualized custom messaging.
Large companies such as HP, Bearing Point, Xerox and Progress Software already have adopted ABM, but there is no reason on earth that small and medium-sized businesses should not or cannot do the same.
Benefits of ABM Marketing by The Numbers
Eighty percent of marketers claim ABM is better than other marketing strategies. This is not surprising as it is easy to waste thousands of dollars on ad space with no results. By being selective though, you can focus on individual customers and potential customers who will most likely convert. This approach not only saves money, but it shortens the sales cycle as well.
Of companies using ABM, 70 percent have aligned their sales department and marketing departments compared to 51 percent of companies that do not use ABM.
Additionally, 83 percent of companies using ABM single out "increase engagement with accounts" as the most beneficial aspect of account-based marketing. Sales and Marketing staffs note that by using ABM it is possible to interact with customers through the channels they prefer including:
Email
Social media
Online advertising
Traditional marketing
Because ABM campaigns are segregated and targeted data analysis is easy and you can change your messaging quickly based upon the analysis.
Almost all companies using ABM cite it as one of the key drivers of successful marketing.
There are two reasons to use account-based marketing. They are:
Protect the market you have
Finding new markets
Protect the Market You Have
Most B2B companies have a finite number of clients or customers. As the years go on, new accounts become cash cows and have a higher contribution to your firm's revenue compared to others. Chances are, you haven't marketed to them for years and a competitor can sweep in and pluck the account right out of your existing customer base.
Categorizing existing accounts and the ones that contribute the most are the ones that you want to target for an ABM campaign. This helps customer retention rates and lets you focus on a single organization's needs.
Finding New Customers
Sure, customer retention is important, but, so is generating growth by finding new customers. Fortunately, ABM is useful here too. ABM serves to enable you in up selling and initiatives for cross-selling in addition to finding new customer sources.
How do you do this?
First identify the key people, especially decision makers in the target organization.
Run a number of programs to the target company, customizing your outreach to the specific individual. This may range from a department head to a purchasing director or as high as a C-level executive.
If the putting together of the essentials for account based marketing is something you would like Webociti to help you with, contact me. My phone number is 678-892-7157.
Till next time,
Joe
Save