24 Aug

Important Changes In Google Local Search
Important Changes In Google Local Search
It was just a few weeks ago, in early August 2015 that Google announced a major change in Google local search results. It was made very quietly and seems to have gone almost unnoticed by many in the Internet marketing industry, and DIY marketing folks.
On August 7, 2015 Google changed Local Search Engine Results from a "local pack" of 7 local businesses to only a three pack. The screenshot below only returns three businesses in Roswell, GA for the category auto repair, the map shows scores more, but you have to click on the button below the three businesses that are part of the three pack marked More Auto Repair.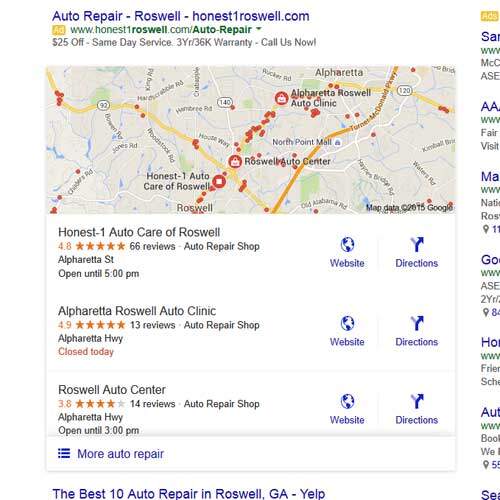 Look closely above; notice anything else that has changed?
If you see that addresses are no longer listed you are a winner! Or maybe a loser if you were consistently appearing in the seven pack. Now, to get your address searchers either you can click on "directions" or "website" which is found to the right of the listing.
Any other changes that you notice? Not only are addresses no longer available, neither are phone numbers appearing. This means for a searcher to call your business they have to click through to the listing or go to your website for your phone number.
There are more changes – for instance store hours are now listed, but Google+ links are removed. It is paradoxical that Google removed the G+ links as they recently announced an effort to have local businesses claim their page officially and verify it.
Another new innovation for Google is that it rolled out the smaller packs in both the United States and internationally at the same time.
In addition, business hours with both opening and closing times are now displayed in the new 3 packs.
Google also has stopped calling the reviews "Google" reviews and now the search engine simply calls them 'reviews.'
Remember how when you scrolled over the local listings the local card for a business is revealed? Now, you can foggetaboutit! That's over, you now must click through to the secondary local page.
Searchers will eventually learn that if you click anyplace other than a SER website they will get more local listings and a map. Each page has 20 local listings and there is no limit on how many pages a user may visit.
On mobile local search the address is gone, but a new option replaced it, a big fat 'call' button.
Why the Change?
For now, Google confirms the changes in Google local search but has said nothing else. Some industry analysts believe it has to do with the May 2015 incident where Google maps returned the White House as well as Howard University as racist terms. Google will not confirm or deny that this was the reason for the changes.  (Read more)
What is Next?
With the probability of a business that was in the top seven under the old system, but not in the 3 pack under the new system, the importance of great content combined with great search engine optimization, becomes more important than ever. The competition to make it into a three pack is more than intense, and many companies will engage outside specialists for Google local search optimization.
Webociti is an Atlanta based marketing firm that works with Internet marketers all across the world. Webociti specializes in Internet marketing optimization including local search optimization. Call us, at Webociti to learn more our number is 678-892-7157.