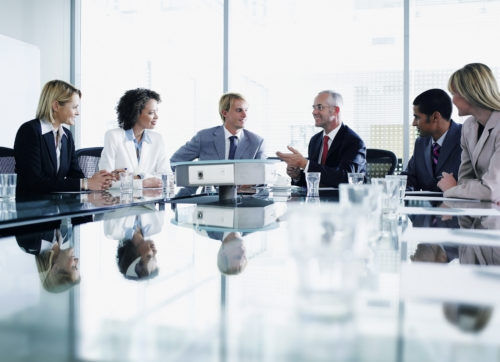 10 Apr

Marketing Funnels
Marketing Funnel
Most of the time, my suggestions, and solutions for improving marketing and sales deals with keeping your customers happy and how using Digital Marketing, SEO and content can move prospects through the marketing funnel and finally make the sale.
Of course, your company gains from having a marketing funnel with prospects, leads, and customers in various stages of the marketing funnel process. But, the people in the marketing funnel are not just prospects, there are your sales people in the marketing funnel too. They depend on the marketing funnel and often gripe about an inconsistent flow of revenue and commissions month after month with frequent sales gaps. I believe that this is a direct result of a lack of consistent prospecting. When prospecting sputters and stalls so does the movement in the sales funnel.
The Marketing Funnel
A funnel is engineered to help you move a liquid from one container to another. Imagine an oil change for your car – the funnel protects your car from spills of engine oil. The idea behind a marketing funnel is similar, except its purpose is not to prevent liquid leaks, the marketing funnel help your company avoid "leaking" potential new customers.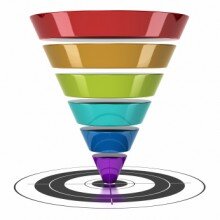 The marketing funnel is used as a metaphor and had is start by codifying the marketing of AIDA – Attention, Interest, Desire, Action. Not only is AIDA a description of the sales funnel it is a marketing system, a process where you provide an optimal customer experience each step of the way. The steps follow:
Prospect
Lead
Customer
Repeat Buyer
What Does Each Stage Have in Common with The Others?
Content. Content is the lure for having a prospect become a lead. A well-written article about how your products function and make life easier has a good chance of being downloaded. The download is cost-free, leads simply give us their email address and they get the download. If the download lives up to its promise, the lead ultimately converts to a paying customer. Following his or her initial purchase, additional content may be pushed to the customer and leads to a repeat sale with this customer. From the first stage to the last, content that is relevant, interesting, and not filled with too much jargon is the common thing found at every stage of the Marketing Funnel. This type of content does help the potential customer move through the marketing funnel and become a reliable returning customer.
The Marketing Funnel in Action
Suppose I am running an electrical contractor business. I have a website and a contact form. The site is bare bones with a little information about myself and the products and services I provide to my customers. My contact form can get me up to a dozen or two prospects each month with their first name and email address. But, what if I could get a multiple of leads? Instead of sitting by the phone waiting for a customer to call, I create a white paper for download entitled "How to Save Your Family or Business on Your Electric Bill." This is what internet marketing experts call Lead Management.
On a periodic basis, I send my Newsletter filled with prizes, coupons, surveys, other downloadable reports, and other great content to everyone on my mailing list.
When your lead makes their first purchase they become a customer. Once they have made 3 purchases they are a customer for life. Becoming a customer is great, becoming a customer for life is the lifeblood of your business. Ask any marketer and they will tell you: "It's easier to keep an existing customer than it is to find a new one."
Would you like to learn more about implementing a marketing funnel into your marketing program just Click Here to contact us on our website or call 678-892-7157.
Till Next Time,
Joe