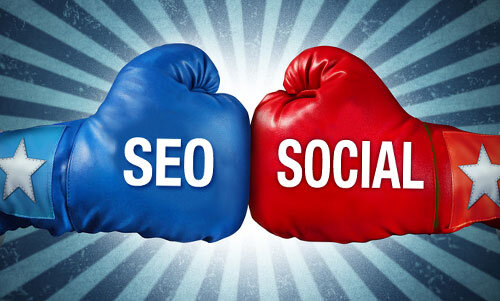 03 Nov

How to Begin Using Social Media and SEO to Promote Your Business
Using Social Media and SEO to Promote Your Business
What is the difference between content marketing, social media marketing (SMM), and SEO? There is none, all three work together to accomplish one thing, giving your audience relevant content.
This post will explain some simple steps for starting a social media marketing strategy to gain more exposure and click-throughs for your small- or medium-sized business.  Social Media and SEO.
Search Engine Optimization
First, let's look at search engine optimization (SEO) briefly. SEO takes in a strategy that ensures your website and/or blog can be found in a search engine's result page when a user searches for phrases and keywords describing your content.
Do you know there is another form of SEO? It is Social SEO. This term points out that social media links and user's interactions with them hold considerable sway in a websites search engine rankings.
Tip 1 – What Social Media Should I Use?
The basic ones, especially for local search include,
Facebook
LinkedIn (excellent for B2B)
Specialty Social Media – Sites related to your industry that includes allowing you to post about your company.
Tip 2 – Optimize Your Company's Social Media Profiles
When reviewing and editing your social media profiles use as much description as possible. Make sure you complete the 'Information' or 'About' portions of any social media platform that you are on. By using the phrases and words that best describe your business and are also search terms searchers use to find your business.
To optimize your website for local searches, make sure your business listings always include your full address and phone number. Mentioning your proximity to the nearest local landmark helps too. Parks, schools, or the name of the mall your retail store is in boosts your social media SEO. Also, use your business name as part of the description of your company so that your name and your search terms work together.
Tip 3 – Make Your Content Shareable
The more incoming and outgoing links you have, the more Google, and other search engines seem likely to consider you and your business an authority. Great content gets shared and even things such as comments, retweets, repins, and likes are all part of the weight given to your links by search engines.
To gain the most from your posts and articles include sharing buttons for social media to each piece of content produced by your company for social media.
Tip 4 – Generate Brand Recognition
Gaining brand recognition is a huge stumbling block for small and medium-sized businesses. But, social media makes creating brand awareness easier to gain in our connected world.
To build brand awareness try things such as contests, online coupons and deals, and relevant content.
These types of online activities help sharing and link building. Also, by promoting contests, coupons, and deals on social media goes a long way to creating awareness of your brand.
Tip 5 – Use an Automatic Posting Service like Buffer
Keeping up with social media marketing means frequent posts to all your social media accounts. Some businesses hire staff for posting and many companies use Internet marketing companies such as Webociti to handle this task.
A good measure for helping you stay on top of posting is a company like Buffer. You can write a single post and free of charge Buffer sends it to Facebook, LinkedIn, and Google+. For more than three networks, you will have to pay a monthly fee.
As social media marketing begins working its magic on building your brand and generating new business, consider using a company like, Webociti, to affordably and professionally manage your social media marketing campaign.
Call us at 678-892-7157 to learn more about Social Media and SEO.
Till next time.
Joe Mediate