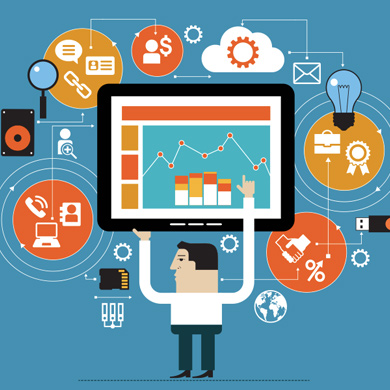 Lead Generation
In marketing, lead generation is the generation of consumer interest in the products or services of a business. Leads are created for many purposes such as list building, e-newsletter or for sales leads. Qualified leads are individuals who have taken a positive action to indicate genuine interest in a given type of product, service or offer. Therefore companie's marketing efforts must generate leads to keep its pipeline full and then give qualified leads to sales to engage in the sales process.
The Game Has Changed
Years ago the concept of lead generation was this, marketing went out and generated leads of potential customers and then passed them on to sales. The potential customers would talk to your sales team and sales would educate and then qualify these unqualified buyers. That old process has all changed. In the new world customers do their own research by searching online for the products and services they are seeking therefore, business must make sure they create a online presence that reflects their offerings in the best way possible. In other words people are buying in today's world and are not being sold like they did in the past.
It is clear to us that there has been a shift in the traditional buying process. Buyers are educating themselves due to the easy access to information that was never before available. Meaning buyers are further along in the buying process then ever before in other words they are three fourth of the way through the sales process before they ever contact a supplier or speak to your sales team. This is the reason you website has to have a solid content on the site to properly portray your company and its offering

You Need A Solid Lead Generation Strategy
Gone are the days that a company can rely on marketing tactics like cold calling, trade shows and mass advertising to find prospects. Today companies must learn to build a long lasting relationship with their customers in other words talk to them one to one and not with a mass advertising message. Why? Because buyers are overwhelmed with mass messages with far reaching, unclear and unsubstantiated promises. Therefore they are getting better at ignoring what they don't want to hear and seeking out what they want to learn on their own.
Today you need to create a lead generation strategy this will help you build trust and gain the interest of your buyer way before they contact your sales team. Furthermore, you don't want your sales people dialing for dollars or cold calling people who don't even know your brand. If your lead generation process can generate qualified leads for sales the sales process is much easier and you will see more of your leads turn into sales.

Don't Turn Leads Over To Sales Too Early
Too many companies confuse a lead with a qualified lead...a person who has demonstrated a pure interest and has been pre-qualified by your marketing automation scoring criteria. For some companies lead generation is done well but the problem is that most new leads are not ready to buy yet. Therefore giving it over to sales at this point is counterproductive. If a sales rep engages at this point and the person is not ready to talk to them it gives the sales rep the impression that the marketing department leads are not very good. As a by-product the leads are ignored and then your competitor swoops in and takes the sale away from you.
To ensure this doesn't happen companies are turning to a marketing automation technology with the ability to nurture and build a relationship which therefore earns the potential customers trust and business once they are ready to buy. In order to do this these prospects must have access to relevant content that is delivered at the right time turning that early brand awareness into a sale.

Your Website Is Where It All Happens
Your website is the main place your prospects and customers will go therefore you need good quality content that is interesting, educational, informative and entertaining so as to further build a meaningful relationship. We suggest you encourage prospects and customers to sign up for your newsletter or fill out a form for a white paper or ask for something and then give something in return.
Want to learn more about how Lead Generation can add value to your business and build your pipeline? Just complete the request form or call us today 678-892-7157.

We also offer the following Marketing Automation services.

Get Started Today!
678-892-7157
Contact us today for information & pricing about Internet Marketing
Get Free Quote


Classroom Training
That is why we offer face-to-face SEO Training in a classroom setting.
Learn More
Our Clients
Some of our more recongnizable clients