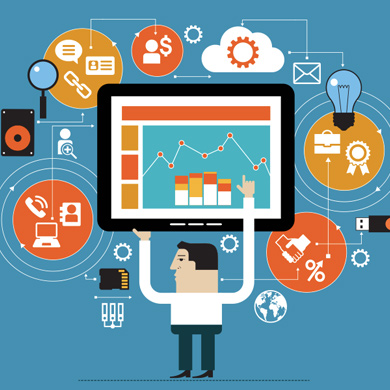 Lead Nurturing
The goal of lead nurturing is to build a long term relationship with your prospects though the sales cycle and a customer's life span. Lead Nurturing should be an integral part of any sales and marketing program you're implementing. Once a lead is identified it should be placed in your marketing and sales lead nurturing process to be cultivated and qualified. Depending on the behavior and interest of the lead a channel of communication should be started where you get to know the buyer better and at this point you will begin to earn their trust and nurture them as you move through the sales process.
Marketing Needs To Play A Bigger Role In Sales
As we move to an online market place it is clear to us that marketing has to play a bigger role in the sales process. Thus aligning sales and marketing has never been more important to streamline and leverage your marketing and sales investment. How many times has marketing passed a lead over to sales and after sales engages with the lead discovers the prospect is not ready to buy...sales being driven by a sales quota, filing the lead away as unqualified and never following up. Thus a good lead was discarded because it was unqualified from a timing point of view and your competitor closes the lead you work so hard to get. As you can see there is a lack of alignment and collaboration between sales and marketing. Sometimes leads are ready to buy but, more often than not, they need a little nurturing before they can move along in the sales process.

How Can We Start To Nurture Our Leads
Lead Nurturing campaigns are multi step communications to promote long term interaction with your prospects and customers. These lead nurturing campaigns can begin by an action on your website like completing a form or requesting information or from a prospecting email blast. Therefore delivering the right content at the right time has become an important part of the process. By automating this process you are able to react to a customer immediately and get them the information they need to make a buying decision. Once you begin the process it is ever so important to continue to stay top of mind with future communication as the leads get ready to buy and need specific buying information.
Once a lead is captured it is identified and becomes part of the lead nurturing process where you begin to get to know the potential customer better. At this point you will use specific tactics you determine necessary to earn their trust. Some of the tactics most commonly used are: emails, videos, and webinars which are all part of the nurturing process.

Prospect Nurturing
Different from lead nurturing in that the prospects have not shown any interest in your brand or products but need to be made aware of what your brand is all about. Prospecting is the process of creating attention and interest in your brand to win a conversation to explore your products or services more deeply. A prospect needs to be nurtured in a similar fashion as a lead but with different information and frequency. Thus you target a audience that fits the profile of your customer type and you try to infiltrate that target audience to find people who have a need. Remember it is not the main goal of prospecting to find someone currently looking to purchase, the goal is to bring awareness to your brand, product or service so when ready to purchase you are included in the buying process. If this is the goal, multiple communications must occur in order for you to get their attention.

How Can You Get Started?
At Webociti our team of marketing experts will help evaluate your situation and come up with a plan right for you. We will recommend the right service offerings to help get your lead nurturing program kicked off and running smoothly. The integration with our marketing automation platform or your current one will help track and report on the efforts of the campaign. Prospecting is an important part of the growth of your business so don't wait to get started.
Want to learn more about how Lead Nurturing can add value to your business and build your pipeline? Just complete the request form or call us today 678-892-7157.
We also offer the following Marketing Automation services.

Get Started Today!
678-892-7157
Contact us today for information & pricing about Internet Marketing
Get Free Quote


Classroom Training
That is why we offer face-to-face SEO Training in a classroom setting.
Learn More
Our Clients
Some of our more recongnizable clients