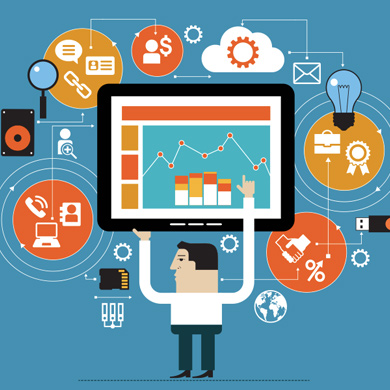 Marketing Analytics
The key to any good marketing system is the ability to analyze what has happened in your marketing campaign and how has it affected sales. Marketing Analytics allows you to track how each individual prospect is interacting with your various marketing initiatives and how a lead first came to your website, via organic search, paid advertising, social media or is that prospect an active part of your email subscriber base. Marketing Analytics can tell you all of this and more providing you with valuable lead intelligence.
Website Analytics vs Marketing Analytics
So, what is the difference between web analytics and marketing analytics? The main difference is marketing analytics focuses on the person and web analytics focuses on the web page and website. Marketing analytics allow you to optimize marketing tactics, and predict revenue from your marketing campaigns.

Your Website Can Be A Black Hole Without Marketing Analytics
Your website is a great marketing tool, but it can also be a black hole that doesn't reveal who is visiting your website, how they got there and why. Marketing Analytics gives you visitor insight and captures critical data to understand your online shoppers.
For instance, let's say you did an email send to a segment of your leads. Marketing analytics can not only tell you how many people clicked through from your email to your website, but also how many of those people actually converted into leads for your business when they got there. Furthermore, you can compare the impact of that individual email send with other marketing initiatives. Did that email generate more leads than that blog post? Your company needs to evaluate your internet marketing performance on various measurements to get the full picture.
We also offer the following Marketing Automation services.

Get Started Today!
678-892-7157
Contact us today for information & pricing about Internet Marketing
Get Free Quote


Classroom Training
That is why we offer face-to-face SEO Training in a classroom setting.
Learn More
Our Clients
Some of our more recongnizable clients