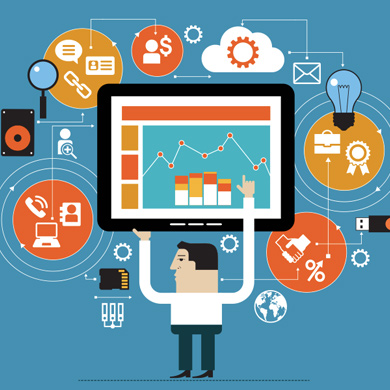 Webometer - The Intelligent Pricing Engine
Webometer is an inventory pricing and competitive price analysis solution that provides knowledge and saves money for e-tailers. The system saves business owners money because retail inventory turns and valuation play a vital role in the longevity of both large and small businesses. Retailers with large inventory demands can find it difficult to manage all their product pricing models. At Webociti, we supply retailers with an intelligent inventory pricing solution that is both cost-effective and easy to use.
Your online retail business needs the Webometer managing its inventory to be price competitive in the market.
The implications of improper inventory valuation can be long lasting. It's beneficial to every retailer to actively manage their inventory pricing. e-tailers with more than 1,000 pieces of inventory need the assistance of a pricing engine like Webometer.
By managing inventory valuations, retailers are ultimately protecting their cash flow and their ability to grow their business. Retailers can increase their profit margins by 10% to 70% by actively managing their pricing strategy.
Inventory pricing is a key element of eventual business success that is mostly under the complete control of its operator. The Webometer is an innovative solution that provides intelligent inventory pricing management in real-time.
With so many operational factors dependent on the accurate pricing of your inventory, it's never been more important to get it right. At Webociti, our approach to pricing your products is strengthened by our real-time pricing management system.
We are able to increase or reduce a product's price the moment you request it. All the information about competitor prices are updated throughout the day. This ensures that you are operating with the most current data when making pricing decisions.

Three Reasons Every Retailer Needs an Intelligent Pricing Engine
1 - To Keep an Eye on Competition and Cash Flow
Once you have evaluated your stock and established a pricing structure, you then need to consider what your competition is charging for that same stock. Businesses must know the value of their inventory and how their competition is valuing similar products.
Knowing what your competition is charging directly impacts cash flow. The Webometer gives retailers the ability to secure valuable competitive pricing information with the platform to adjust inventory pricing to impact their bottom line.
Webometer gives retailers the ability to increase the exposure of their goods. Inventory is fed into multiple online shopping engines like Google Shopping, PriceGrabber, & NexTag increasing overall product exposure and cash flow.
Pricing engines like Webometer provide business managers with the ability to compare their products with those of their most similar competitors. It's important to know if your competition is outpacing your business by undervaluing your product sales or conversely by overvaluing them.
With an inventory of several thousand products, it is simple to understand how difficult it can be to manage every product properly. Pricing engines make light work of inventory pricing.
These services put inventory in the right places and provide reporting and monitoring. Our e-Commerce Data Integration provides retailers simple integration into major platforms like Big Commerce, Volusion, CV3, ASPStorefront, Magento, & Shopify.
This groundbreaking technology gives business owners the ability to keep an eye on their competition and cash flow.
An integral part of retail merchandising is competitive pricing. Intelligent analysis of your standing in the marketplace is paramount to success. The Webometer scans the internet for the products you and your competitors are selling, then it compiles reports comparing pricing with your competitor's pricing. The Webometer generates reports giving retailers the power to make intelligent business choices.

2 - To Analyze Price and Create Smart Valuations At A Low Cost
Smart valuations are made possible by pricing engines utilizing real-time adjustment generation. Intelligent e-Commerce pricing systems like the Webometer, are always online analyzing the competitive retail market with preset user generated parameters.
Our cloud-based pricing engines is completely web-based and offers a low-cost solutions to business owners that does not require expensive hardware purchases.
These types of programs utilize simple and easy to use web interface that is easily accessed on any device. Some programs also increase the visibility of the inventory through the use of included protocols that upload them to shopping portals across the internet.

3 - To Manage Retail Sales Cost, Which Always Comes Back to Price
The vast majority of your products may sell promptly based on assigned price. The price of your inventory will naturally change based on the life cycle of your stock. New merchandise will have a completely different pricing strategy than inventory that is nearing the end of its maturity.
Buyer's sensitivities to price and assignment of value will impact the retail price of consumer goods. Knowing what your competition is charging for a product can provide invaluable insight, but understanding what your customer is willing to pay for a product is also important.
Price analysis reports are generated by the Webometer, and retailers can make smart valuations of their inventory based on increases and decreases being made by your competitors. Most products will have higher price sensitivities, and only the unique and exclusive items will sell regardless. So, it's important to understand the price sensitivities of all the products in your inventory.
If the price is higher than average, the risk is high that your products will be eliminated from consideration by shoppers.
Low prices, while excellent demand generators, lack the required revenue to cover the necessary cash flow for business operations.
These lower costs can also damage the perceived value of your product. Business owners are always in charge of their inventory pricing when using an engine like the Webometer.
Owners are able to set rules that adjust their inventory to help you beat your competitors. The Webometer intelligent pricing engine automatically adjusts inventory pricing according to preset rules.
The ability to manage important facets of business operations in such a streamlined way will save money for your business. For a retailer, inventory is the life's blood of their sales structure. Enlisting the assistance of a smart e-commerce pricing engine like the Webometer can be the difference between high profit margins and loss of revenue.
For more information on our Webometer - The Intelligent Pricing Engine and associated services, call 678-892-7157 or for a free quote click here.
We also offer the following Marketing Automation services.

Get Started Today!
678-892-7157
Contact us today for information & pricing about Internet Marketing
Get Free Quote


Classroom Training
That is why we offer face-to-face SEO Training in a classroom setting.
Learn More
Our Clients
Some of our more recongnizable clients