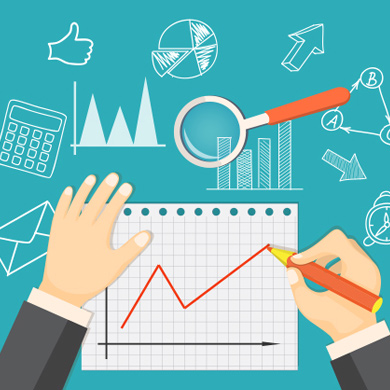 Banner Ad Design
Display advertising, or web banners, offer your business the potential to micro-target individuals who may be interested in the goods and services that you offer by showing a message where they are most likely to see it: on the internet! Believe it or not, banner ads have been around for more than 20 years now, starting with a clickable offering from Wired magazine in October 1994. Digital advertising has come a long way since that time, with banner ads gaining in importance and prominence while proving their staying power throughout the years.
Smart and Simple
Why have banner ads survived for more than two decades after other technology advances have come and gone? The staying power alone proves that these clickable little pieces of content are a valuable tool in your digital marketing toolkit. While the format of display ads changes with the intro of video, GIFs and other interactive content, the general concept is the same: present a tiny snapshot that entices the reader to get clicking -- and deliver prospects to a page that will help convert them into a paying customer over time.
Benefits of Banner Ads
There is an art and a science to website banner ads, and the delicate balance of call to action (CTA), color schemes, sizing of fonts and usage of images is one that is continually tweaked and hotly debated by marketers throughout the world. However, nearly all agree that the banner ad is far from dead, and is still one of the most effective and cost-effective ways to drive traffic to your website or to a specific offer within your content. Here's some of the many reasons marketers love banner ads:
Cost-effective: You can target display ads based on demographics. As long as you tightly define your audience, you're only paying for content delivered to potential prospects and not everyone who comes along. Digital marketing is much more feasible than print advertising such as postcards or billboards.
Attractive: When you utilize banner ads to drive your message home, you can also help reinforce your brand as long as you maintain consistency of color scheme and messaging. This is one of the times that it's important to work with digital marketing professionals!
Actionable Metrics: Understanding who, when, where and what has never been more important to ensuring that your marketing ROI exceeds expectations. Website banners often offer deep-dive metrics that let you see where customers went after clicking your ad, whether they took action and even general demographic information about the people who are clicking. Display ads can also tell you specifically where your new customers are coming from, which might give you insight into potential partnerships in the future.
Remarketing: If customers visit your website once, wouldn't it be great if you could target that same customer and show them a targeted message based on what they viewed on your site? That's remarketing, also known as retargeting. If you've ever shopped on Amazon.com and then suddenly noticed that the specific tent you searched for suddenly shows up in your Facebook stream as an ad -- guess what? That's retargeting, and it's incredibly effective at driving customers back to your site to re-engage with your business.
Banner Ads and Landing Pages
One of the best ways to use Banner Ads is in conjunction with landing pages. While this concept may be new to you, essentially it lets you send traffic to a simple, well-designed page that encourages your visitors to take an action. Some of the best Banner Ad campaigns use this technique.
Get Started Today!
Let us help you define a marketing campaign that will drive results. From a website banner ad to a landing page that truly converts prospects to warm leads, we will work with you to create the right messaging and design that maintains brand consistency. Contact one of our marketing professionals today at 678-892-7157 or fill out the Banner Request Form to get started bringing new customers to your business!
We also offer the following Design And Development services.

Get Started Today!
678-892-7157
Contact us today for information & pricing about Internet Marketing
Get Free Quote


Classroom Training
That is why we offer face-to-face SEO Training in a classroom setting.
Learn More